"The project team said everything was in great shape when they handed over, but it's gone to custard."

"I've got a bunch of Change Managers, but we're still not doing change well."
We hear this a lot. You probably do too, or you've felt it.
Organisations are undertaking major change all the time – yet few do it well. It's widely accepted that between 70-80% of change programs "fail," at least the first time.
This is a problem: our ability to change faster and more effectively than our competitors is what gives us the edge, yet few are doing it well.
Since 2015, we've partnered with Deakin University to research how organisations manage change today. Our research shows there are three main reasons behind those change management failure statistics.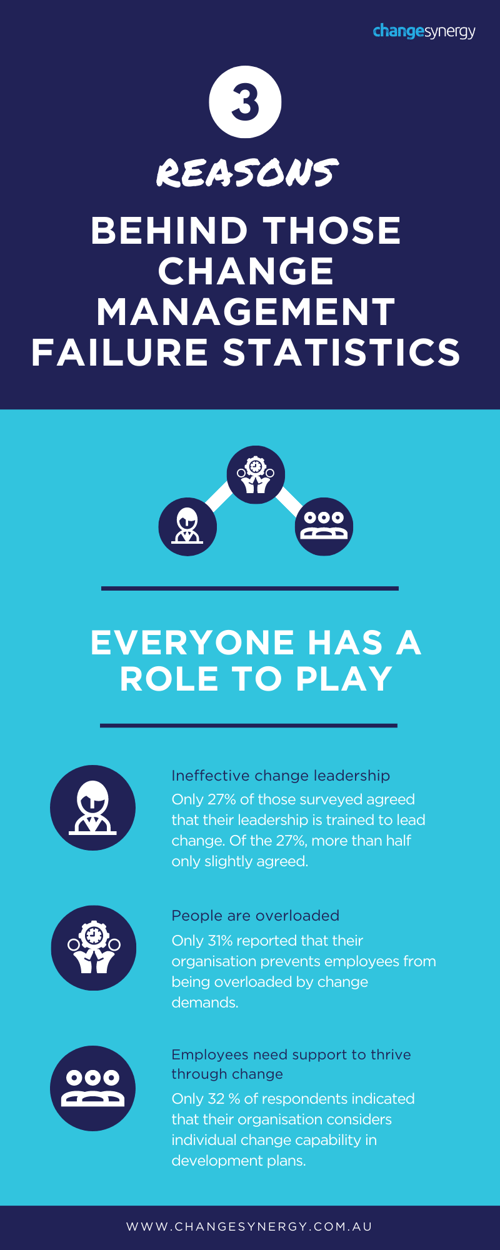 1. Ineffective change leadership
The ability to lead teams through change and to demonstrate results are critical leadership skills needed across all sectors and industries. Mastering this competency puts any leader ahead of the pack in career progression.
Strong change leaders role model desired behaviours, demonstrate transparency, and encourage open feedback about major change. This open climate of communication creates trust and reduces cynicism among workers.
Unfortunately, only 27% of those surveyed agreed that their leadership is trained in these areas. Of the 27%, more than half only slightly agreed.
2. People are overloaded
Only 31% of respondents reported that their organisation prevents employees from being overloaded by change demands. This impacts productivity, employee satisfaction, and return on investment in change programs.
Many of the organisations we speak with report an increase in change saturation. Multiple changes hit an employee group at the same time – yet surprisingly, these organisations report doing "nothing" to address this.
It's the job of all leaders to ensure capacity is managed in their areas!
3. Employees need support to thrive through change
Resilient employees – ones who are responsive to, motivated by, and ready for change – enable you to compete in a dynamic and uncertain world. Unfortunately only 32% of respondents indicated that their organisation considers individual change capability in development plans.
In short: everyone has a role to play in change.
Our research shows that when organisations do invest in these areas, they consistently deliver change programs faster, cheaper, more successfully and with less disruption.
These three elements are as important to change success as dedicated change practitioners.
https://play.hubspotvideo.com/v/6595350/id/34945147227
How we help
To improve in these areas, you need the means to assess these indicators of risk.
You can baseline your organisation's change capability using Change Synergy's Diagnostic Tool, and use the results to make data-driven decisions on where to improve.
We don't want you to contribute to those change management failure statistics!
Do you agree with us? Share why (or why not) in the comments!